Scaling Agile via the Scaled Agile Framework (SAFe)
Headquartered in Munich, but with offices around the globe, censhare AG offers integrated software solutions that support the marketing and communication strategies of their global customer base. Improuv have been engaged by censhare since the first quarter of 2014 to assist in their transition into a scaleable agile enterprise with the goal to improve time to market, product quality, enterprise-wide transparency and better meet the needs of their diverse customer base.
The Scaled Agile Framework (SAFe) has been successfully introduced over a transition period and is running successfully within the organization.
The Approach
censhare were not strangers to Agile, but their experience to date had been based on a local interpretation of scrum. While this had worked when the company was smaller, they were facing challenges scaling their organization to meet the expansion of their business.
The company had grown to over 150 persons in a relatively short space of time, and they were feeling the effects of crossing Dunbar´s number (circa 150) where individuals start to lose our overview of our network of persons. A quote from Walter Bauer, censhare CTO, summed this up with "I used to have regular personal contacts with all people in the company, but now it's even hard to keep this up within my own department.". After attending a 2 day training course in scaling agile (Leading SAFe), Walter decided to introduce the Scaled Agile Framework into censhare to solidify agile across the organization and prepare it for future expansion.
With the support of improuv, censhare followed the concept of "train everyone, then start a release train".
Core Steps
CTO and a product owner attend Leading SAFe training course
The Leading SAFe course introduced the thinking and practices behind scaling agile via the Scaled Agile Framework.
Walter saw how the "Big Picture" could be adapted to provide a flexible and scaleable agile way of working that would help not just development, but the organization as a whole.
Executive leadership workshop
A great many transitions fail because "management are not onboard". Before embarking on the transition journey, a one day workshop was held with censhare's executive leadership to discuss agility, scaling agile, and to set and manage expectations. In this way the leadership team bought into the approach and gave the green light to introduce scaled lean agile practices.
Solid Scrum
A key decision censhare made was to further develop the core Agile strengths of their development teams before focusing on scaling. Over a period of months, scrum teams received training and coaching to help develop team potential and prepare them for working together at scale. Teams were also introduced to the new meetings and thinking behind scaling via SAFe. All scrum master received Certified Scrum Master training (CSM).
Product management training
Products owners and the Chief Product Owner attended the SAFe Product Owner/Product Manager 2 day workshop, certified as SAFe Product Owner/Managers. This, along with coaching, helped product management prepare the overall backlog.
Release Planning Exercise
A significant event in the SAFe framework is the program increment planning meeting that sets the objectives for the coming circa 10 week planning increment. To bring the organization up-to-speed with this meeting before the "real thing", we organized a training session where we simulated the planning event. This turned out to be key to the eventual success of the first real planning sessions.
Release Planning – a 10 week planning and alignment cadence
censhare formed an Agile Release Train and set it off on a 10 week planning and alignment cadence. Within the 10 weeks, scrum teams work in synchronized 2 week sprints. The kickoff "program increment" planning event follow the SAFE model.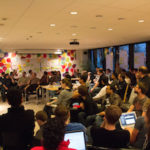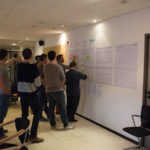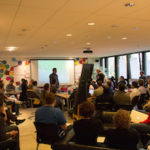 Portfolio management
Scaled agile portfolio management, aided by portfolio kanban, was introduced to add transparency to the portfolio backlog and to match demand with capacity. This level has not been fully implemented yet as there is currently a clear demand process – which is now matched to the capacity of the agile release train.
Walter Bauer describes the impact of introducing SAFe as …
The new version of our product was released to the market (something that would have been challenging had we not adopted SAFe)
Employee satisfaction has improved (we feel we have a professional approach to product development)
Cross-team dependencies are better managed and made transparent
Transparency at all levels has improved, as has expectation management
The agile release train and 10 week cadence help the teams developed a global product rather than local team deliverables – we have a common vision
The "we are a censhare team" spirit has improved through the development team-of-teams thinking
The teams feel more empowered and involved
Having a clear methodology and training in place has been very helpful when hiring people: Good developers expect a modern methodology and being able to tell candidates that we take agile principles seriously by mentioning that we have trained and certified product owners and scrum masters, and that we follow a clear agile path, definitely makes a difference
Walter Bauer, censhare AG
Stuart Fish, improuv