Training Course Objectives
This course prepares you intensively for your work as a Scrum Product Owner. In addition to the agile mindset and an introduction to the Scrum principles, the focus is on the agile product development.
After this course you will understand what agile product development means and what the tasks of the Product Owner are. We provide you with the necessary know-how to develop successful products with Scrum in collaboration with your teams and stakeholders.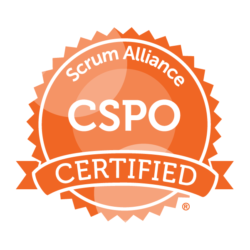 This course is for
Product Owners to be

Executives

Product Managers
Available versions
Face to Face (Duration: 2 days)

Remote (Duration: 3 days)

both versions available as Inhouse
Principles of agile product development

Overview and background of Scrum

Combination of roles, events und artifacts
User Stories, Product Backlog and Burndown Charts

Tasks of a Product Owner

Tips and tricks for your daily doing
I´m thrilled how current cirumstances are taken care of. The virtual training prevented the training to be postponed and took place absolutely comfortably from the homeoffice. Because of application of useful media collaboration and discussion worked smoothly without getting lost on the way. Thank you very much for this commitment and flexibility of everyone involved!
Thank you very much for a professional Product Owner training. The great mix of authentically taught knowledge, pragmatic food for thought, creative collaboration units and dynamic discussions didn´t only leave every attending PO in awe but helped with a variety of tools for our daily doing.
Nadine Bleck
Account Manager
Tel. +49 89 500 352 10